What is a T Part, and Who is Suitable to Wear It?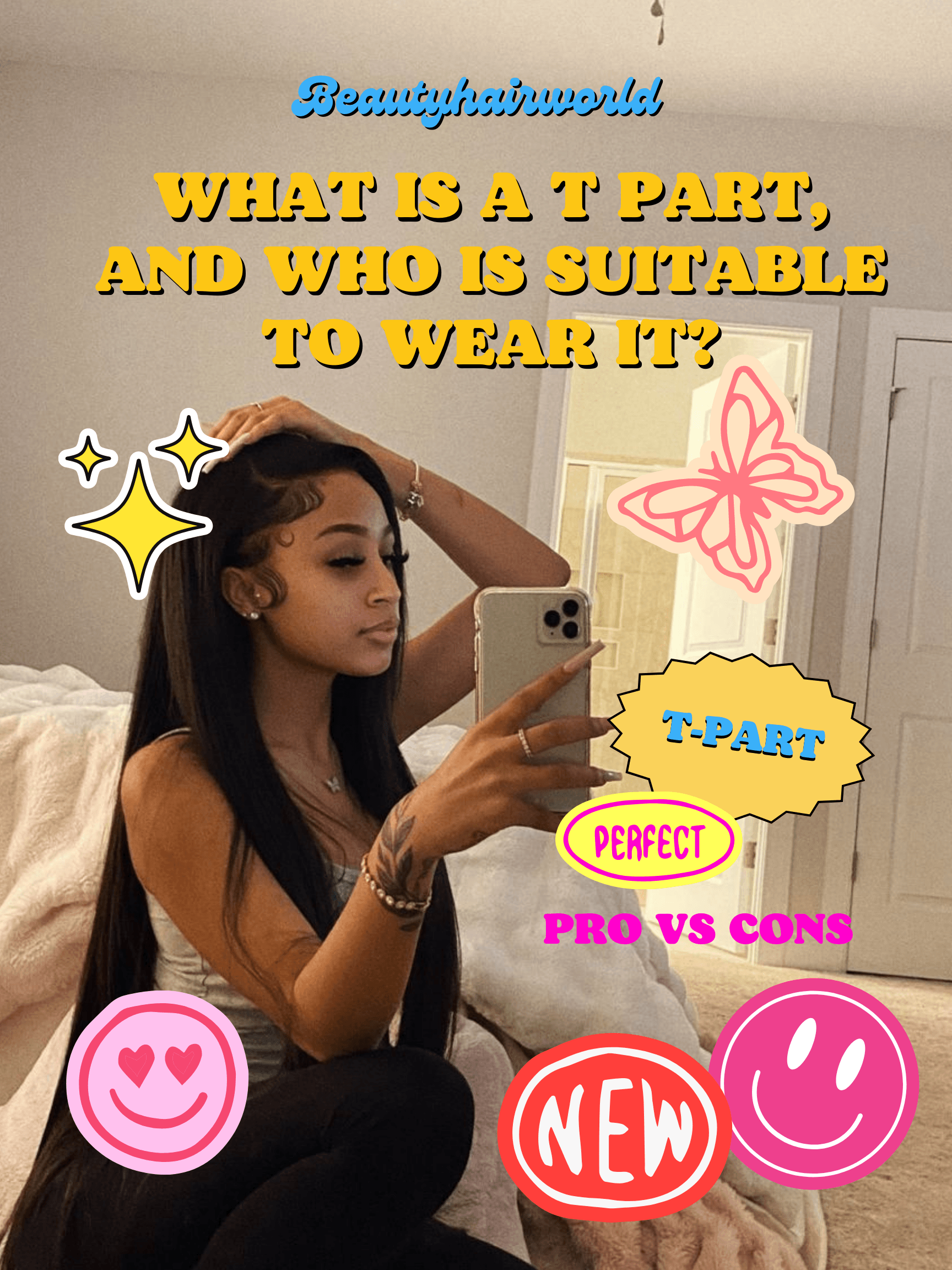 Did you not quite understand why called T-part and its origins? And what characteristics does it have? Let's learn about it together.
Many wig types are available now, including headband wigs, lace front wigs, U-part / V part wigs, etc. In truth, T part wig is a small branch of the lace front wig, so It is also known as t part lace wig.
What is the structure of the T part wig?
The T part wig structure
The T part wig's lace only appears where you need it; yes, the lace only appears at the hairline and parting. In some T part wigs, you will see prefixes like 13*6 or 13*1, representing their lace size, but they are different from the lace closure size on the lace front wig above.
How to choose
Another point, when buying a T part wig, please pay attention to the position of the parting slit. There are generally three positions: left parting, middle parting, and right parting. These positions are relatively fixed, and you can not change the left part to the right part, or the middle part , which will lead to an unnatural parting seam. Of course, it is possible to do a stylish backcomb without a parting.
Pros
These are just 4 of the benefits of choosing a T part wig for your hair wardrobe.
Cheap: The T part wig is one of the most affordable wig types. It is much cheaper than a lace frontal wig, but without diluting the natural-looking effect.
Natural results: When you look at the wig cap from the inside, you'll notice something which we absolutely love. The T part wig has a full front hairline area. So, this leads to a similar natural result that you would get with a more expensive lace frontal wig.
Convenient styling: The wig comes ready to use. There's no need for you to sew the bundle or buy or use any other wig parts to be able to wear a T part wig. It's wearable right out the box, so you don't need to know a lot about wig styling to wear the T part.
Good quality: Not because it's cheap doesn't mean that the wig isn't good quality. If you get your T part wig from the right store, you can best believe it's going to look gorgeous and last a long time.
Cons
The main con with this wig is also part of why it's so affordable. Because of the structure of the wig cap – the T part and lace only at the T section – the part line is fixed. So, you can't change up where it's parted.
But despite that, you can still style this wig in a variety of ways, including curling, crimping, straightening, and dyeing.
So now you should understand what a t part wig is and how to choose it correctly. In brief, the T part lace is an affordable lace front wig; it is very suitable for specific parting hairstyles. Please remember to pay attention to the lace size and parting position when buying one.